Our journey
"In 2006, if you had told me that we would be brewing beer at the oldest continually brewing site in the country (1533!) and as London's oldest independent brewery (2008), I would probably have laughed." [Duncan Sambrook]

Sambrook's was born out of an idea to bring brewing back to the heart of London and it all started in 2008.After a chance meeting with brewing entrepreneur David Welsh, and a crash course in brewing, Duncan brewed his first batch of Wandle Ale in a converted photography studio in Battersea in November 2008. Sambrook's Brewery was born.

A lot has changed for us since our beginnings. We have moved a mile up the road from our original site to the oldest continuously brewing site in the UK. Here we have installed a state-of-the-art brewery, with our very own tap room and Heritage Centre, all housed in a most spectacular grade II listed building in the heart of Wandsworth! .

Our ethos remains the same, to brew great quality beer and have a lot of fun while doing so. This is reflected in the beer awards that we have picked up along the way, displayed proudly in our heritage centre but also with our people and their commitment to our values. We invite you to join us at our taproom in Wandsworth, for a tour, a pizza or maybe just a great beer.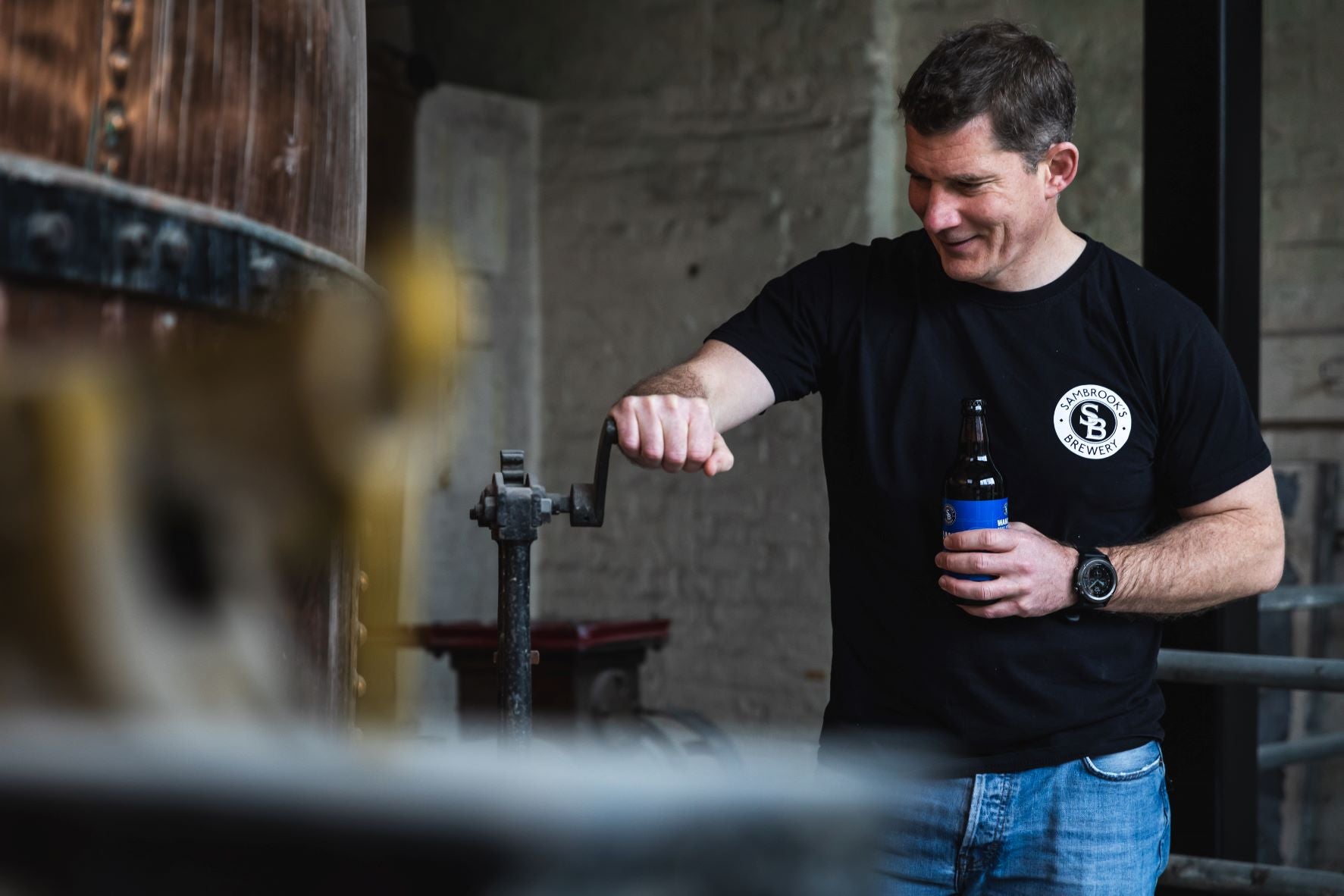 Our People
Our people are the heartbeat of Sambrooks and we have a great team to make, deliver and serve the best beer in London. We now have a 30+ strong team of staff across our sites with too many characters to mention individually, but here is a quick insight into the key team members who make Sambrooks work.

If you phone the brewery you'll probably speak to Mary, our longest serving employee and voice of Sambrook's. Mary joined us when we were just starting and has been central to the business since picking up her first call.

Our brewing team is now headed up by Harley, an enthusiastic home brewer who joined us as a cask washer and worked his way through to senior brewer. He is ably assisted by Gary, Ray and Cormac. Gary joined shortly after Mary and proudly claims to have personally brewed all of our award winning beers!

Kieran leads our pubs, ably supported by Ned and his team, and even has had a beer named after him. Ask for a "Meltdown" at the brewery tap and also the story behind it…..
Community & Environment
Breweries have historically been an important part of the community and this is something that Sambrook's is keen to continue. We have supported local events, charities and schools since 2008 and if you feel that there is a good cause to support please get in touch with our team.

We also care about the environment and local draught beer is one of the most environmentally friendly ways to drink. Here are just some of the ways we are contributing to a circular economy:

• All our spent malt grains are collected by a local farmer and used as cattle feed;
• Our casks and kegs are reusable and we still own casks which we purchased in 2008 and have been reused well over 100 times – our draft beer represents over 90% of our sales
• Heat generated from hot vapour is captured and recovered in the brewing process to reduce heating requirements.
• Heat exchangers cool product and heat water further reducing heating needs

We recognise that every little improvement can help make this planet and our environment a better place to be.