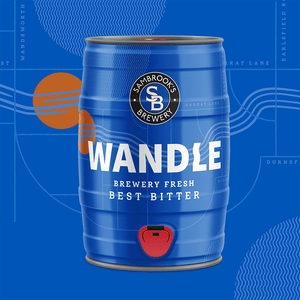 Winner of "Worlds Best Pale Ale" at the World Beer Awards 2013 and many more awards besides. Wandle is brewed with Maris Otter pale malt, Fuggles, Goldings and Boadicea hops and finished with our unique yeast strain. Our flagship beer.
Style: Best Bitter

ABV: 3.8%
Malt: Maris Otter Pale
Hops: Fuggles, Goldings and Boadicea
Allergens: Gluten (Malted Barley)
This is brewery fresh beer and is filled fresh on the morning of delivery. Shelf life is kept to a week to maintain peak freshness. Consume within three days of opening.