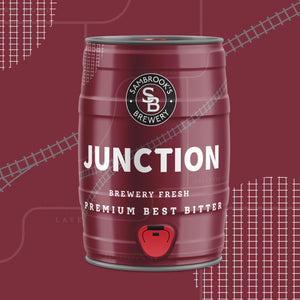 Named with a nod to our local train station Junction is a rich, premium ale. Sweeter than Wandle it is brewed with Maris otter Pale and a dose of crystal and roasted barley with Challenger, Goldings and Bramling X hops.åÊThere is now a good reason to go Up the Junction.
Style: Premium Bitter

ABV: 4.5%
Malt: Maris Otter Pale, Crystal 150, Crystal 400, Roasted Barley
Hops: Goldings, Challenger, Brambling X
Allergens: Gluten (Malted Barley)
This is brewery fresh beer and is filled fresh on the morning of delivery. Shelf life is kept to a week to maintain peak freshness. Consume within three days of opening.